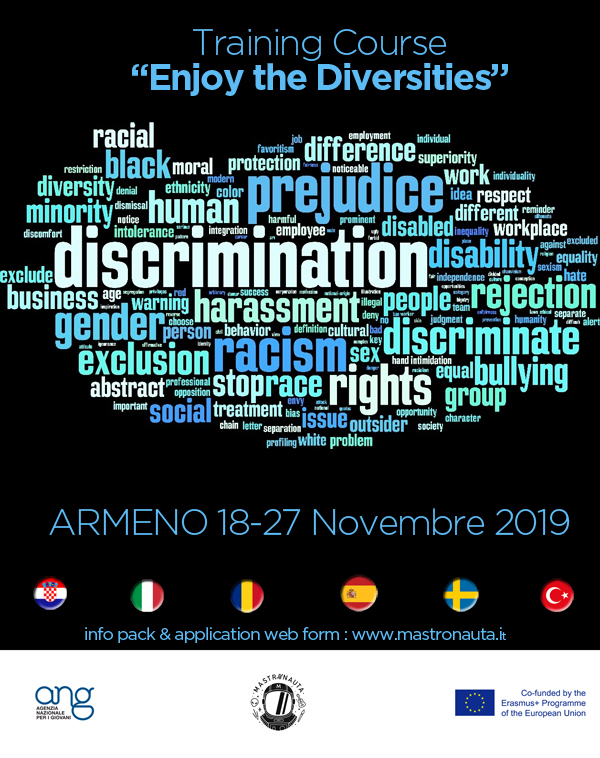 Open call for "Enjoy the Diversities" - Erasmus+
Age of Participants: 18+
Partner Countries: Italy, Spain, Sweden, Croatia, Turkey, Romania
Participants: 24 (4 from each country)
Language: English
The project will take place in Armeno from the 18th to the 27th of November (including travel days). The activities are from the 18th evening to the 26th evening.
"Enjoy the diversities" is a training course that want to help youth workers and teachers, in their daily work, giving to them a series of new tools to prevent, raise awareness, identify and stop discrimination among young people.
Through different Non Formal education, the participants will be more prepared when it comes to talk about stereotype, prejudice and tolerance, with youngsters and adults.
The training will help them to understand more about the effects and the different ways of discrimination, in order to increase knowledge, skills and attitude of the youth workers. They will explore the diversities between their cultures in order to embrace them and appreciate more their own and the others.
The learning process of the training course will include practice of non-formal education methods that can help young people speak up against discrimination.
Within the frame of "recognition of non-formal learning", participants will receive a "Youthpass" Certificate.