Pre&Post Industrial OMEGNA
OMEGNA Pre/post Industriale – camminata esplorativa tra le memorie urbane della città per condurre lo sguardo su scorci e dettagli che rivelano come l'industria ha fortemente modellato Omegna e ricostruire oltre un secolo di profonda trasformazione del territorio omegnese.
Dove arrivava il lago?
Dove voleva arrivare la città?
In che modo l'industria ha modellato la città?
Come potremmo immaginare la sua prossima trasformazione? Sono le principali domande che, passo dopo passo, troveranno una risposta lungo il percorso.
Ogni partecipante riceverà un manuale di accompagnamento creativo con immagini, materiali inediti e contenuti extra.
Durata 150 minuti
Quota di partecipazione 20 Eur a persona + tessera Mastronauta (5Eur)
Minimo 2 persone
Riduzione per soci ordinari, studenti e gruppi
In caso di maltempo l'attività si può svolgere indoor con esplorazione urbana tramite Google Earth integrata al libretto di accompagnamento appositamente creato per il Walking tour che verrà poi lasciato ai partecipanti. In tale modalità la durata è di circa 60 minuti e la quota ridotta a 10 Eur.
Per info e prenotazioni:
info@mastronauta.it
T. 3356465599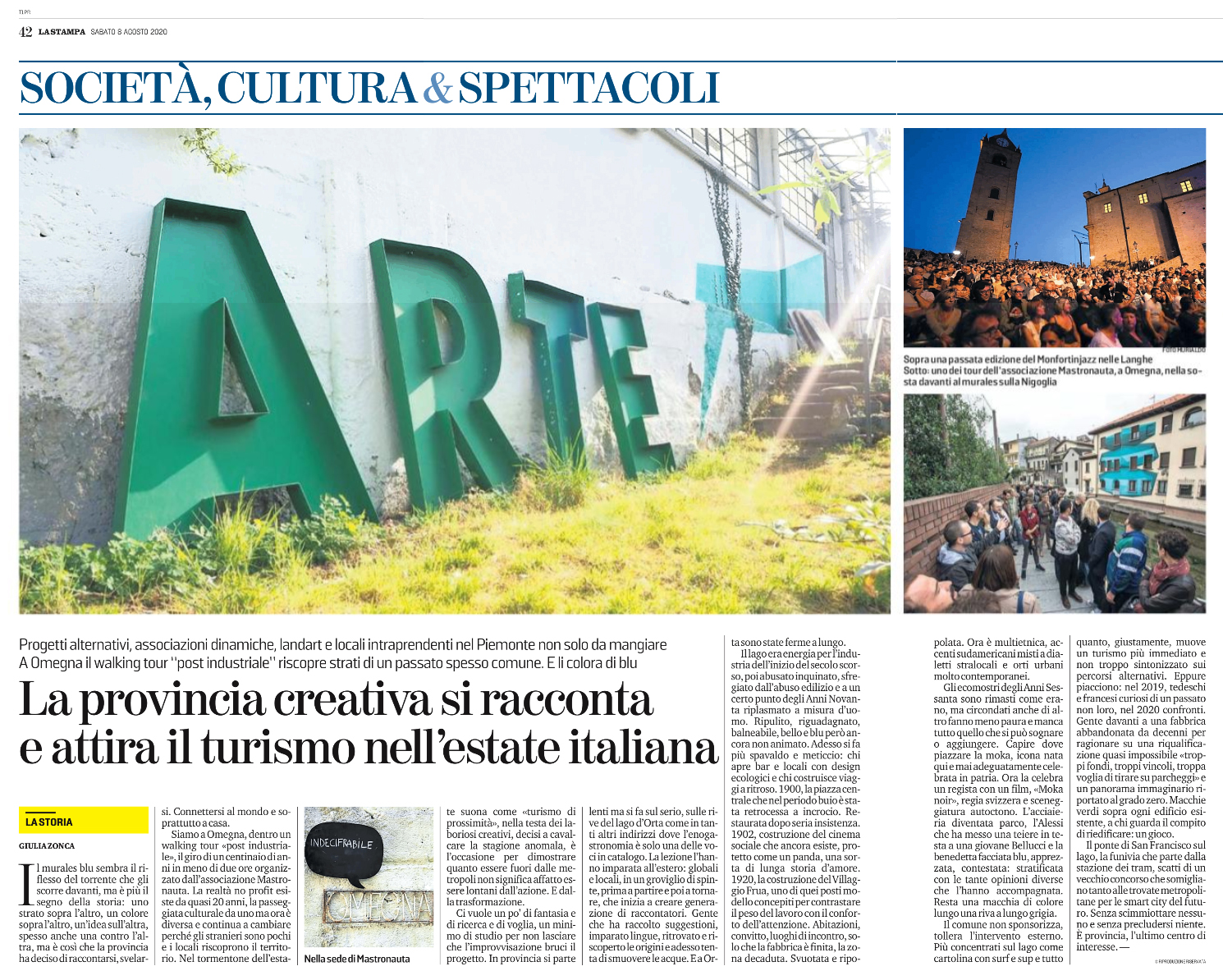 scarica l'articolo qui
Scopri di più:

English version
What were the perimeters of Lake Orta?
What was intended to be the perimeter of the town of Omegna?
How has industry shaped the town?
How do we envisage the next major changes?
A journey among the urban memories of Omegna in order to reconstruct the stages of over a century of evolution of the area, and to gain an insight into how a serene fishing village transformed itself into one of the most important hubs of Italian industrial activity, albeit now in decline.
Guided by Pietro and Giada's studying, young architects and passionate local experts, this experience is an exploration of the area for features and glimpses that reveal how industry was key to shaping Omegna.
During the walk, we will also seek to surmise and discuss which features of its identity could be of value in aiding and taking forward the growing vision of Omegna as a tourist centre.
Discover more here: