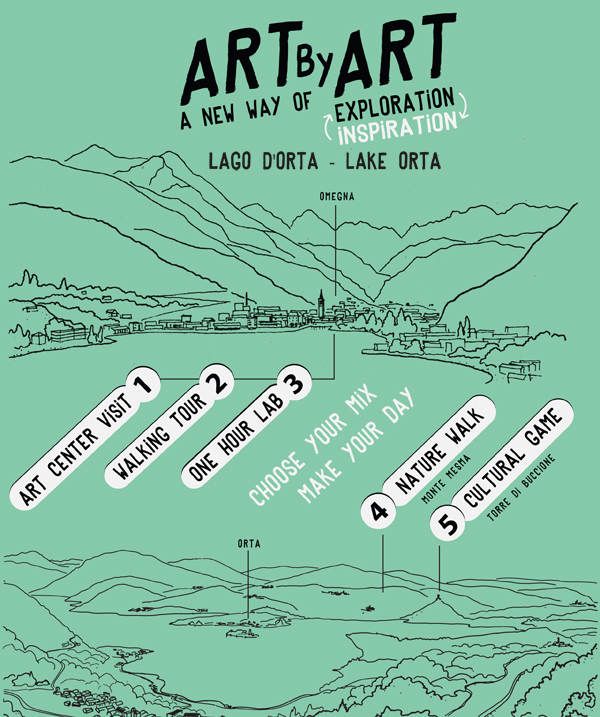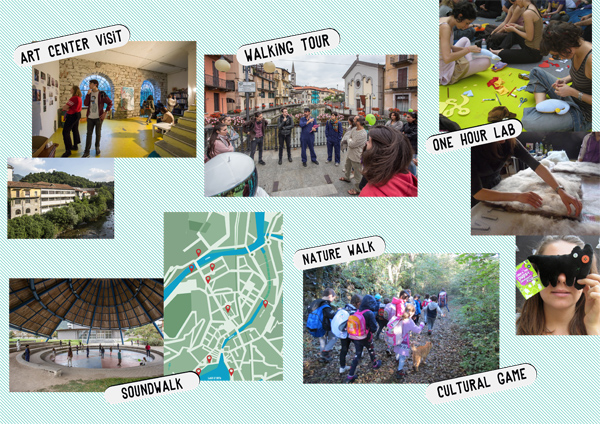 Art by Art promuove nuove pratiche esplorative ed attività creative itineranti, elevando il turismo ad un'esperienza artistica e partecipata.
Vogliamo arricchire il tuo spirito di viaggiatore con storie, inspirazioni, creatività e divertimento.
Siamo un team indipendente composto da persone creative e artisti del territorio profondamente appassionati del Lago d'Orta.
I walking tour sono curati da un accompagnatore turistico abilitato. Tutte le attività sono a donazione libera e consapevole. Per i laboratori è richiesto un contributo per i materiali.
Scarica il Flyer ArtByArt 2019 here
oppure consulta la versione digitale:
Per info e dettagli:
tel 0323 62895
Sms/whatsApp 335 6465599
info@mastronauta.it
Hai difficoltà a raggiungerci? Specificalo nelle note del modulo prenotazione, ti forniremo tutte le indicazioni oppure possiamo organizzare di venirti a prendere.
Ecco i periodi in cui sono disponibili le diverse attività ArtByArt:
1. Visita Centro Artistico - dal 15 aprile al 15 ottobre
2. Walking tour in Omegna - dal 15 maggio al 15 ottobre
3. One Hour Lab - dal 15 aprile al 15 ottobre
4. Nature Walk e Cultural Game - Dal 15 giugno al 15 ottobre
***
English
ART by ART kickstarts an innovative new way to explore, elevating the experience of "being a tourist" to a sensory, artistic and partecipative one. Turn from tourist to "traveller" when you explore with us, as we enrich your experience with tales, creativity, inspiration and fun.
We are an independent team of local artists and creative people, who are passionate about the Orta Lake region and sustainable tourism with territorial development. The walking tour are curated by qualified tour leader.
All experiences are in English and have no fee. Contributions are welcomed to keep alive our initiatives, and are at the participants' free will. Some workshops call for a small fee to cover the cost of materials

Download the flyer here
Booking here
Info:
tel 0323 62895
Sms/whatsApp 335 6465599
info@mastronauta.it
Do you have difficulty reaching us? Specify it in the booking form notes on the we will give you all the information or we can arrange to come and pick you up.